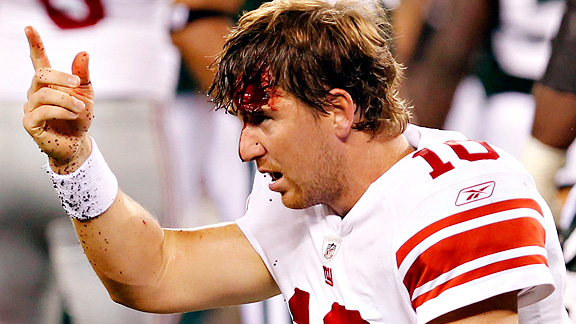 The Jets opened their 2010 campaign with a loss, 31-16 to their cross-town rivals, the New York Giants. However, it's preseason, so the final score matters little. The star of this game was Victor Cruz, an undrafted free agent receiver from UMass who had 3 touchdowns for the Giants. As well as Cruz played, it's still just preseason. Otherwise, David Clowney would be a superstar.
Normally, in a preseason opener, fans are lucky to see the starters past the first 10 minutes. Monday, Rex Ryan kept virtually his entire offense and defense in the game for the entire first half.
After the defense shut down the Giants on the first drive of the game, Mark Sanchez immediately reverted back to his old ways, throwing an interception on his first pass attempt. It wasn't a poor throw, just a bad decision, as Tomlinson was double covered nicely on the play. The ball was tipped in the air and intercepted by Antrell Rolle who took it all the way to the Jets one-yard line.
But that was the only real blemish on Sanchez's night. He rebounded quite nicely, finishing 13-17 for 119 yards, a touchdown to Brad Smith taking advantage of a miscommunication by the Giants defense, and the aforementioned interception. He led the Jets on three scoring drives, although one was set up by an Eric Smith blocked punt.
Once both teams' starters left the game, it was all Giants. Cruz abused the Jets' secondary, particularly Dwight Lowery, Drew Coleman, and Marquice Cole, on the way to 145 yards and 3 touchdowns. Meanwhile, the Jets struggled to mount anything offensively in the 2nd half, managing just 3 points.
Positives
Mark Sanchez:
He rebounded from the early interception to play extremely efficiently the rest of the game.
Antonio Cromartie:
Lived up to the training camp hype. Dropped 2 possible INT's, but was all over the Giants' receivers.
The first-team defense:
Bradshaw and Jacobs combined for 1 yard on 7 carries. Harassed and then KO'd Manning.
Eric Smith:
Blocked a punt and laid some nice hits.
Shonn Greene:
5 carries, 26 yards. Even caught a pass for 5 yards. He showed some impressive power and moves inside the hole.
The receivers:
Braylon Edwards made 3 nice catches and had no drops. Jerricho Cotchery also played well.
LaDainian Tomlinson:
Stats aren't great, but had an impressive touchdown called back by a penalty. Showed some burst and pass catching ability.
Negatives
Mark Brunell and Kevin O'Connell:
Hard to throw Brunell in here after 3 passes, but neither he nor O'Connell looked like they could play at all.
The backup secondary:
Cruz torched the Jets' secondary. Wilson and Cromartie were as advertised, but lack of depth does show how much Revis could help.
Vernon Gholston
: Played a lot in the 2nd half though you probably couldn't tell. Invisible game.
Penalties: 7 penalties for 50 yards is not terrible for the first preseason game, but it's still too many.
Jury's still out
Nick Folk:
Made 3 kicks but missed only one from distance, a 46-yarder. Had the leg, missed wide right.
Photo courtesy of ESPN.